Our school continues to support students in further study. After attending the guidance on further study, students shoul consult with class teacher about selecting appropriate university.
After selecting appropriate university, teacher will guide students through application procedure including reviewing application form, interview practice, etc. We are confident that all students will be able to continue their higher education in Japan.
Period
Application procedure
Content
April
procedure
Content April
Guidance on further study
Preparing for entrance examination
(both written and interview)
August
Selecting appropriate university
One to one consulting with class teacher
September
Submitting application form
Preparing application documents including research plan
October
Taking entrance exam
Practicing for interview exam
Feburary
University admission procedure
Assisting visa status change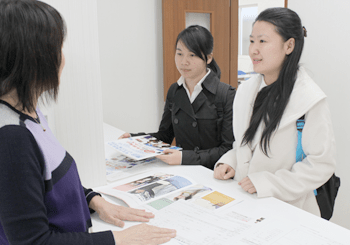 Our school also has recommendation system. Students with more than 95% attendance rate are eligible to apply for the school's recommendation letter of the following university.
Name of university
Name of Faculty
No. of student
Toyo University
Graduate school of reginal development studies
1〜2
Kokushikan University
Faculty of Political Science and Economic
1
Jousai International University
Faculty of Tourism
Faculty of Management Information Sciences
Faculty of Media Studies
Faculty of International Humanities
1
1
1
1
Tokyo University of Information Sciences
Faculty of Informatics
3
Chuo Gakuin University
Faculty of Law
Faculty of Commerce
Faculty of Business Law
1
1
1
Kyoei University
Faculty of International Business
2
Ryutsu Keizai University
Faculty of Logistic Information Sciences
Faculty of International Tourism
1
1
Meikai University
Faculty of Economic
Faculty of Real Estate Science
1
1
Reitaku University
Faculty of Foreign Studies
(Japanese Language and Culture)
1
Shumei University
Faculty of Business Administration
Faculty of Information Management
Faculty of Tourist Business
2
2
2
Keiai University
Faculty of International Business
2
Tokyo Management College
Faculty of International Business
2

The list of university below indicates name of University that our students sucessfully passed entrance examination and continued their further study in the past 3 years.
| | |
| --- | --- |
| Graduate Level | Waseda University, University of Electro-Communication, Meiji University, Kyoto University, Chiba University, Tokyo Denki University, Meiji University, Ochanomizu University, Kokushikan University, Tokyo Gakugei University, Tokyo University of Agriculture and Technology, Japan Women's University, Tsukuba University, Kagoshima University, Daito Bunka University, Tokyo Metropolitan University, University of Shizuoka, Reitaku University, Tokyo Institute of Technology, Chuo University Takachiho University |
| Undergraduate Level | Waseda University, Tokyo City University, Takushoku University, Meiji University, Tokyo University of Technology, Kokushikan University, Rikkyo University, Hosei University, Kanda University of International Studies, Fukushima University, Gakushuin Women's College, Aichi Gakuin University, Chiba University, Komazawa University, Ryutsu Keizai University, Ritsumeikan University, Nihon University, Jousai International University, Sophia University, Dokkyo University, Reitaku University, Toyo University, Asia University, Meikai University, Senshu University, Aichi University, Tokyo University of Information Science, Tokyo International University, Gifu Shotoku Gakuen University, Chuo Gakuin University, Keiai University, Seitoku University, Kyoei University |