Hello everyone
Now in our Ichikawa Japanese Language Institute, Students come to Japan from 20 countries and studying.
People who wish to go on to college or work in Japan, people who want to improve the level of Japanese, people who want to experience Japanese culture, their purpose is various, but everyone is studying Japanese hard everyday and happily.
EJU Examination for University Preparation, Japanese Language Proficiency Test for Qualification, we have countermeasure lesson for both of them.
Guardian carefully according to the student's individual school and the advancement rate of applicants who wish to enter the University is 100%.
And above all, experienced teachers and staff are all out to support student's overall study abroad life.
What kind of dream do you have? Let's all enter Ichikawa Japanese Language Institute and realize that dream with us.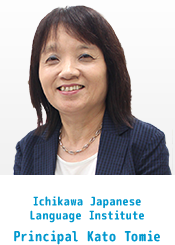 Ichikawa Japanese Language Institute
5-10-5 Minamiyawata, Ichikawa city Chiba Pref. Japan 272-0023
3 minutes walk from Motoyawata station (JR Sobu and Toei-Shinjuku lines) 6 minutes walk from Yawata station (Keisei line)
TEL : 047-329-2121
FAX : 047-329-2122 MAIL : info@aiueo.ac.jp